Hashtags are one of the most important features of Instagram. How well you manage your hashtags can be the difference between a really successful post and a total wreck! So keep your eyes sharp and check out Nitreo's list of the best Instagram Hashtags for Photography in 2021!
Your growth strategy consists of many different factors, and hashtag management is one of the most important parts. Photographers and Influencers who want to share their content must learn how to do this. If you manage this correctly, you'll see a boost in your followers and likes!
In the age of social media, many photographers are still climbing their way up and creating careers by using Instagram
Users often think that the hashtags aren't working, but unless those are banned hashtags, it most likely isn't the case.
Let's dive in!
---
The Most Popular Instagram Hashtags For Photography
These are the most popular Hashtags for photography overall, we'll go over others for each specific niche in photography in this article.
Remember that using highly popular hashtags also means that you'll have more competition and it may be hard to be featured on the Explore page by using only those hashtags. You should definitely use some of them, but be sure to cycle through and also use well-planned hashtags that match the context of your photo. We recommend Display Purposes if you are not sure of which hashtags to use.
#Exposure #ThroughTheLens #Camera #Photogram #Photoshop #iPhonePhotography #PicOfTheDay #PhotoOfTheDay #Capture #Lightroom #Canon #Nikon

#Instagood #Visuals #InstagramPhotography #MobilePhotography #HDR #Snapshot #Collage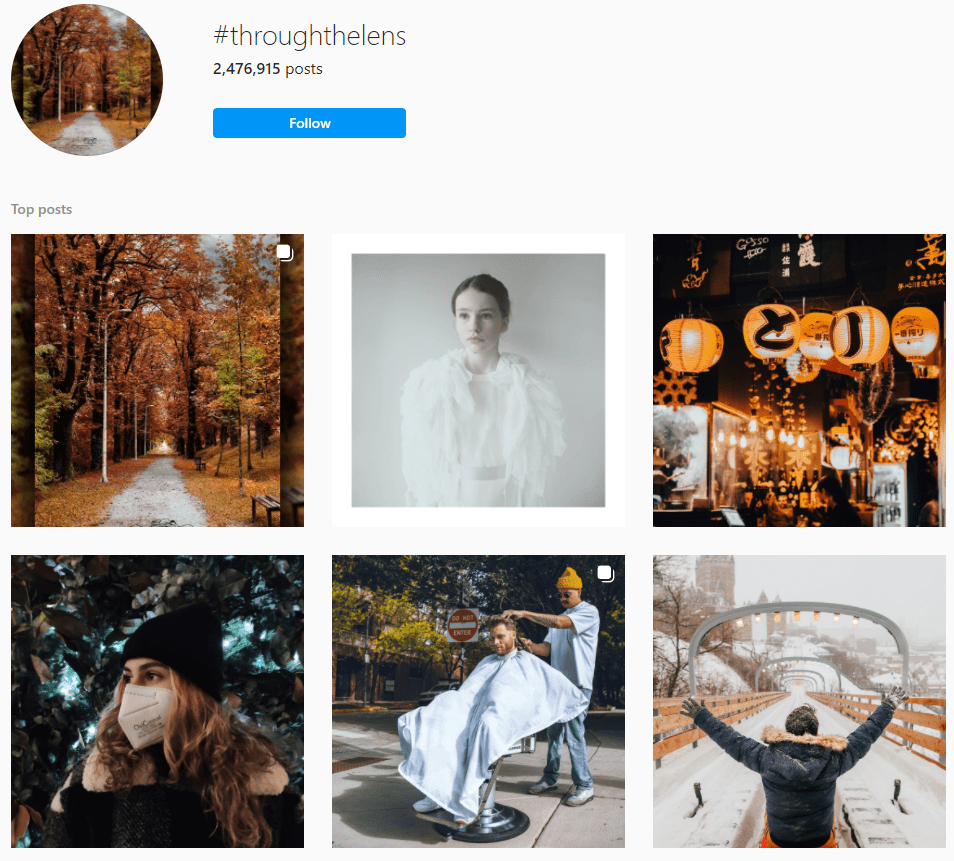 Hashtags For Landscape Photography
If you're like me, you'll have countless photos of landscapes. Users love to see places they haven't visited yet and using some of the hashtags below will definitely help you reach them!
#LandscapePhotography #LandscapeLover #Landscape_Captures #Splendid_Earth #DiscoverEarth #ExploreTheGlobe #NakedPlanet #Ig_Landscape #Ig_Podium

#LandscapePhotoMag #LandscapeHunter #Earthescope #Outdoors #Mountains #DiscoverLandscape #LandscapeShot #ScenicView #Sky_Captures #PlacesWow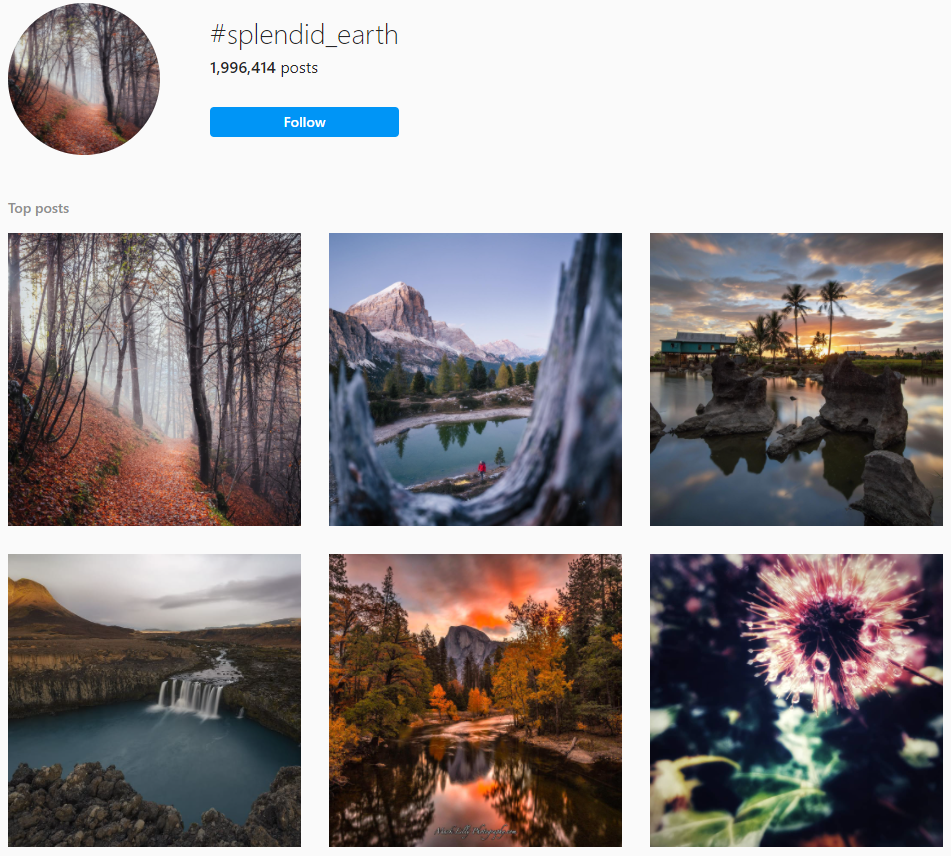 Street and Urban
Urban and Street photography is awesome and actually one of my favorite niches out there. I've lost count of how many times I left the house to get chores done with a camera in the backpack and got back with some amazing shots. Life in the city moves fast, but time slows down when you find the perfect spot to catch some unique moments and people.
The hashtags below will help you find people interested in this kind of photography and I bet you'll get new followers and likes out of it!
#StreetPhotographer #StreetPhotography #StreetStyle #IgDaily #IgStreet #StreetStyle #UrbanPhotography #StreetShot #Ig_Street #LensOnStreets

#Street_PhotoClub #UrbanPhotography #UrbanAisle #StreetShooter #Downtown #UrbanJungle #Cityscape #Cityscapes #City_Captures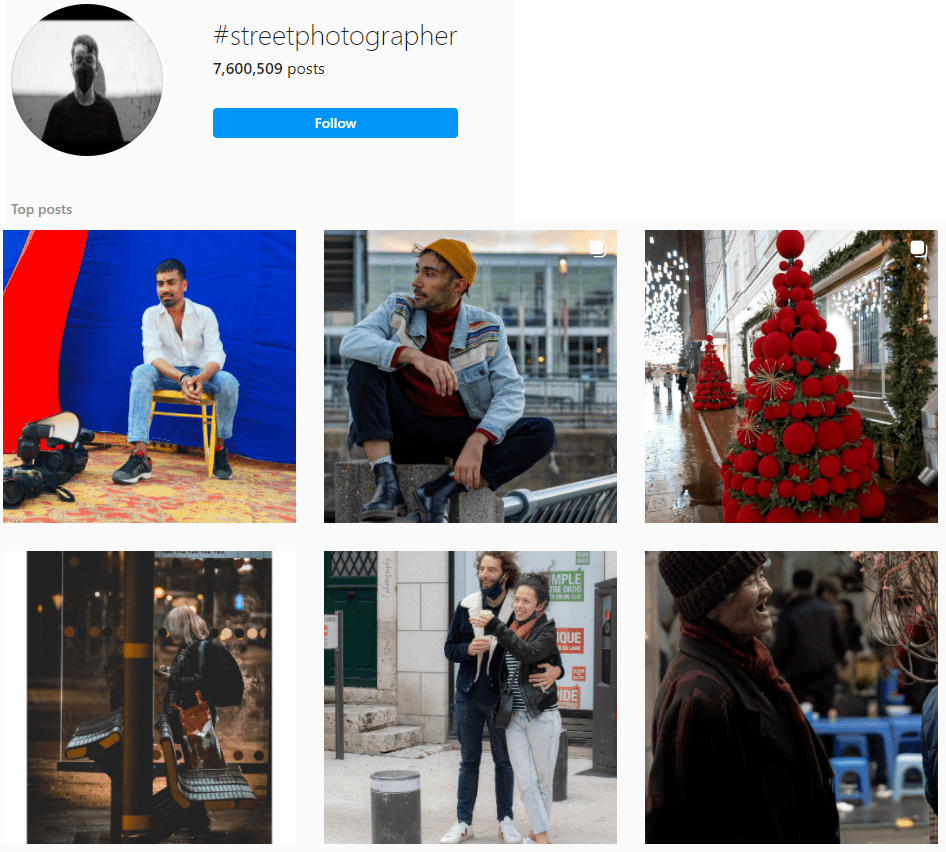 Nature Photography Hashtags
If you're the adventurous type or if you like to relax, it's almost certain that you like to explore nature and take photos of it. This is one of the most popular niches of photography on Instagram. The hashtags below will get you better results by targeting the correct audience.
#NaturalWorld #NatureBrilliance #NatureDaily #NatureCapture #NatureLovers #IGNature #Nature_Of_Our_World #ColoursOfNature #Nature_Seekers

#TreesOfInstagram #NaturePerfection #FiftyShadesOfNature #BirdsOfInstagram #Biodiversity #Wildlife #NaturalWorld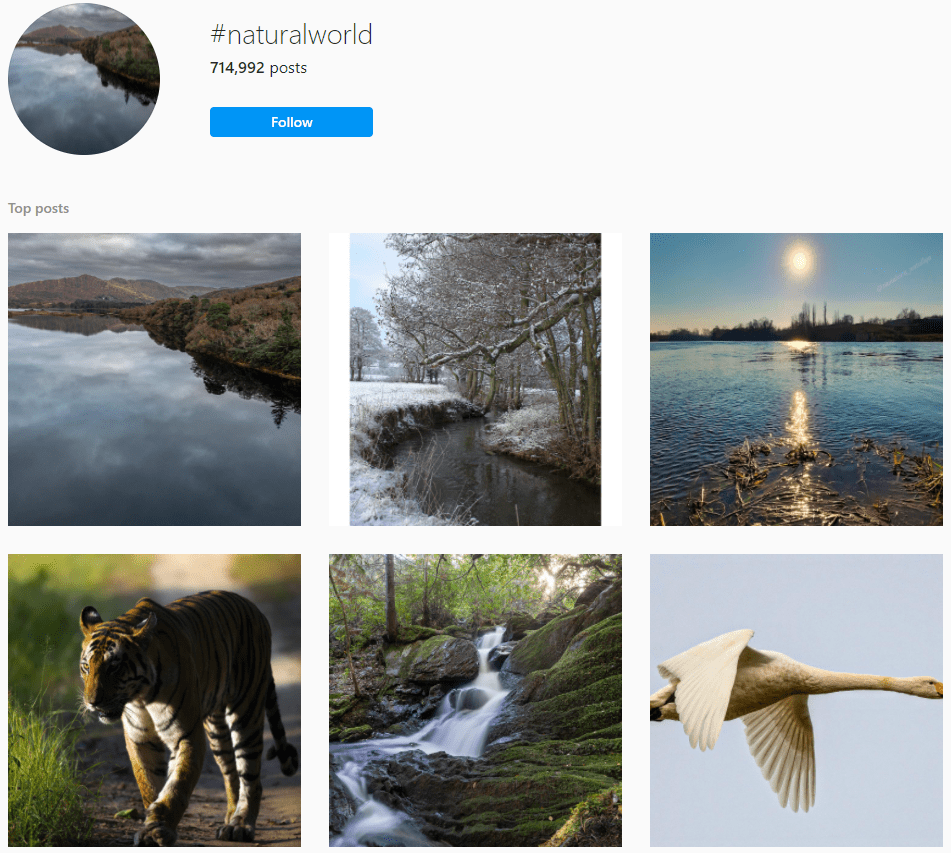 Food Photography
I haven't met a single person in life so far that doesn't enjoy food. If you're like me, you eat with your eyes first and it's so satisfying when food is well presented. Use the hashtags below to conquer the foodies out there!
#HautesCuisines #FoodCaptures #Foodography #Foodgasmic #FoodFoodFood #FoodArt #FoodArtProject #FoodFeed #Foodstagramming #Moodyfood

#FoodieGram #FoorForFoodie #Foodilysm #FoodStyling #FoodStylist #FoodVSCO #BeautifulCuisine #FoodPhotoADay #FirstWeEat #FoodieGram #FoodPhotographer #FoodOfInstagram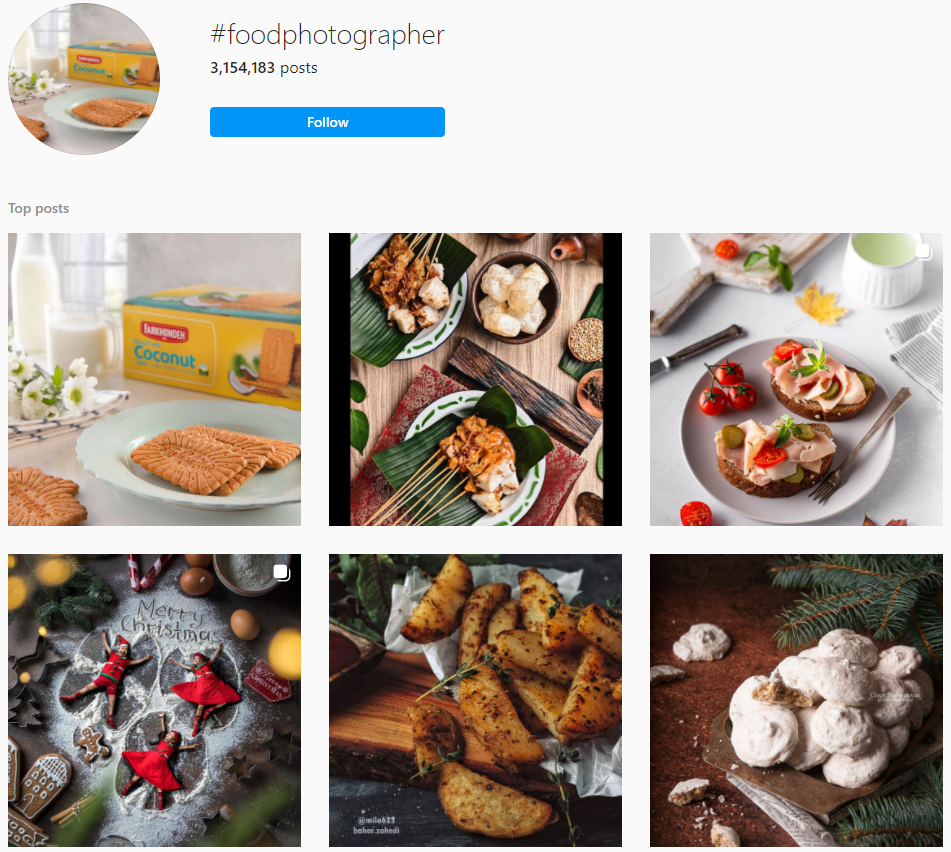 Analog Photography Hashtags
Film photography! It's awesome and has a constantly growing community. Film sales have risen a lot in the last few years due to more and more photographers either going back to film or trying it out for the first time. Go ahead and choose a few hashtags below to get even more reach, and as a result, a lot of people will see your content!
#FilmCommunity #ShootFilmSociety #InFilmWeTrust #AnalogPhoto #TheFilmShot #35mm #35mmFilmPhoto #AnalogClub #DeathB4Digital #AnalogShooters

#AnalogueFeatures #ShootInFilm #FilmPhotographer #Film35mm #ShootFilmStayBroke #MadeWithKodak #FilmIsGood #ShootFilmNotMegaPixels #TheFilmGang #ShootFilmCulture #FilmPhotographica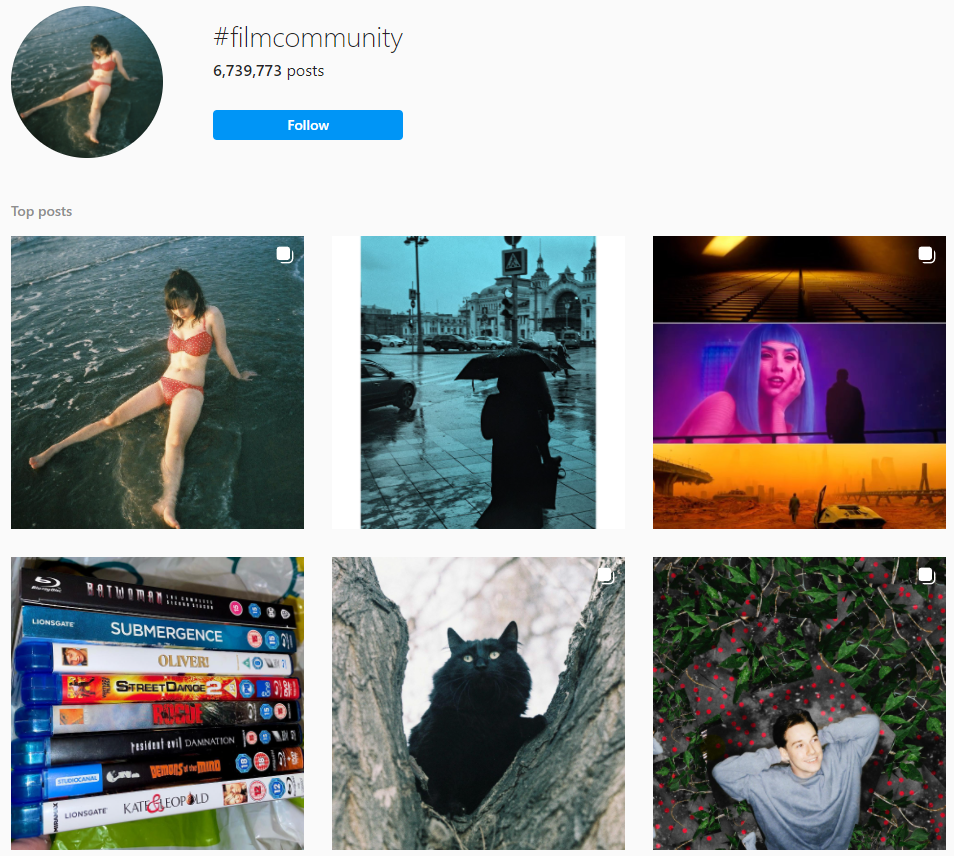 Portrait Photography
Portraits are something I developed a great passion for over the last few years. Believe me when I say, if you want your photos to be seen, you need great hashtags for this. Your portraits will have huge competition as users are posting them every second of the day. Pick a few of those and you're good to go!
#WithHumans #PortraitPerfection #Portrait_Society #Portraiture #PortraitOfTheDay #SelfPortrait #PortraitPhotography #Portrait_Mood #PortraitVision

#PeopleGallery #PortraitStream #Portrait_Shots #PursuitOfPortrait #PortraitPage #PortraitSociety #DiscoverPortrait #Portraits_Today #PortraitFolk #PortraitsFromTheWorld #MoodyPortraits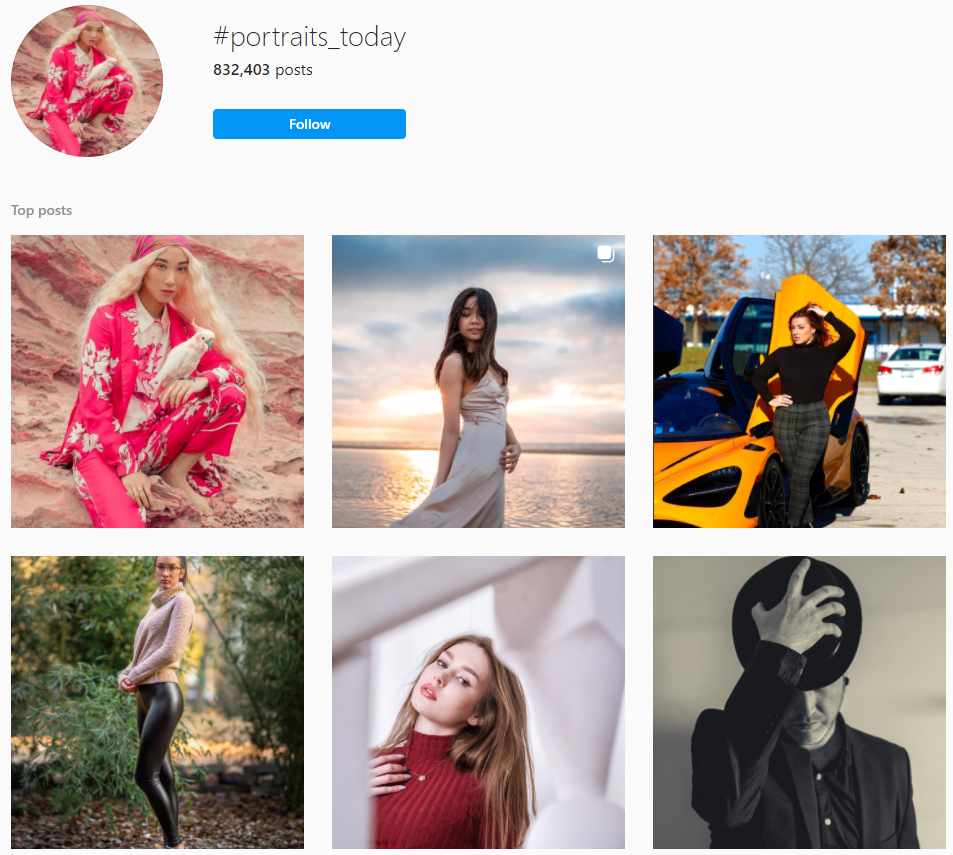 Wrapping Up
Those were the most popular Instagram Hashtags for Photography in 2021 so far, new ones might pop up and if they do, we'll get you an updated article!
Hashtag management is super important as we mentioned before, and we recommend that you check out this article on hashtags. There's a ton of useful information for you in there and you'll get better results in no time if you apply it to your content!
Next up we'll talk about Community Hubs and how you can use them to boost your results. There are tons of community hubs out there, so we'll bring you the best ones for photography and other niches as well.
---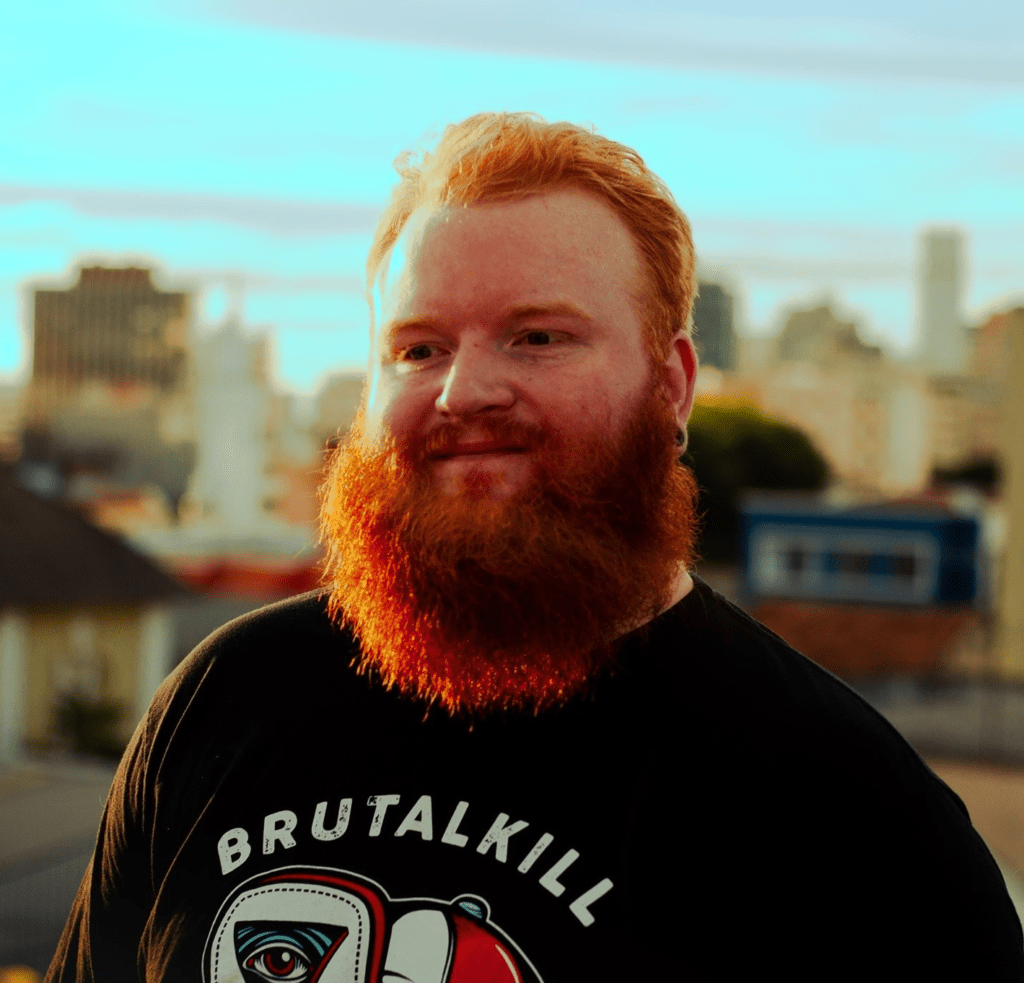 Red is the content creator for this blog, working directly with the Nitreo team, he aims to help clients and Instagram users to optimize their content and metrics. He is also a photographer obsessed with urban photography and portraits, so you can expect a few posts about Instagram photography from time to time as well.
Red has worked as a Portuguese translator and interpreter for over 7 years, he also felt really weird writing this bio in the third person.